[su_animate type="slideInRight"]

[/su_animate]
[su_heading style="modern-2-orange" size="21"]Give Your Child the Tools of Focus, Discipline, and Leadership in Just one 30 Minute Class[/su_heading] [su_column size="2/3"]
[su_note note_color="#edeceb"]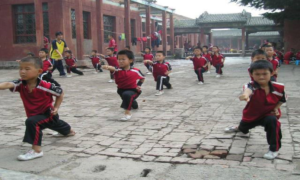 Kid's Kung Fu Fit is based on the 2000 year old art of Chinese Kung Fu that was modernized to fit today's busy lifestyles. 99% of our Parents bring their children to the Academy for the Discipline, Focus and exercise. They might have concerns with their child's discipline at home and in school. Their grades might be suffering because of the lack of focus. Or maybe they just spend too much time playing videos games and never really get any exercise. And even if they watch just 1 hour of TV, they are more likely to be overweight. Parents of Ancient China sent their children to the Shaolin Monastery for academics because the Monks were the doctors and educators of the time. The first tools that the monks taught the children were Discipline, Concentration, and Leadership. We use these same tools today.[/su_note]
[su_testimonial photo="http://www.welovekungfu.com/wp-content/uploads/2016/04/Kid-Starting.png"]Master R. Hello! My daughters, Farah and Fiona, are really enjoying their classes. Mr. Lauffenburger is respectful and commands their respect and attention. Fiona asked me after her last class "How long can I take Kung Fu?" I said "As long as you want! Until you're as good as Mr. L!" And she said "I want to take Kung Fu until I am BETTER than Mr. L!" She is LOVING the structure and sense of accomplishment. We live 30 minutes away and still manage to come 3 times a week. Thank you, Stacey[/su_testimonial] [/su_column]
[su_heading style="modern-2-orange" size="21"]Here's The 4-Steps to Better Focused & Disciplined Children[/su_heading] [/su_column]
[su_row][su_column size="1/3"][su_photo_panel shadow="0px 1px 2px #eeeeee" photo="http://www.welovekungfu.com/wp-content/uploads/2016/06/Kids-Break-Stance-400X300.jpg"]1) Intellectual Development requires concentration. Concentration means to bring all efforts, faculties, activities, etc., to bear on one thing activity (followed by an action of completion). Learn more… [/su_photo_panel][/su_column] [su_column size="1/3"][su_photo_panel shadow="0px 1px 2px #eeeeee" photo="http://www.welovekungfu.com/wp-content/uploads/2016/06/Kids-Cert-11-400X300.png"]2) Emotional Development teaches Your child the 4 rules of discipline that lead to self-discipline that is required for success in life. Learn more…[/su_photo_panel][/su_column] [su_column size="1/3"][su_photo_panel shadow="0px 1px 2px #eeeeee" photo="http://www.welovekungfu.com/wp-content/uploads/2016/06/Kids-Lion-Dance-400X300.png"]3) Social Development involves everything from simple courtesies such as "Yes Sir," "Please," and "Thank you" to developing what we call the 7 Kung Fu Leadership Skills. Learn More…[/su_photo_panel][/su_column][/su_row]
[su_row][su_column size="1/3"][su_photo_panel shadow="0px 1px 2px #eeeeee" photo="http://www.welovekungfu.com/wp-content/uploads/2016/06/Kids-Working-Hard-400X300.png"]4) Physical Development are the Kung Fu techniques of Punching, Kicking and Blocking are all part of keeping your child fit and active… and away from video games. Learn More…[/su_photo_panel][/su_column] [su_column size="1/3"][su_photo_panel shadow="0px 1px 2px #eeeeee" photo="http://www.welovekungfu.com/wp-content/uploads/2016/06/Kids-Cert-400X300.png"]Proud parents with their children displaying their recent graduations with their certificates.[/su_photo_panel][/su_column] [su_column size="1/3"][su_photo_panel shadow="0px 1px 2px #eeeeee" photo="http://www.welovekungfu.com/wp-content/uploads/2016/06/Me2-400X300.jpg"]Master Rothrock and his team of Professional Black Belt Coaches have over 50 years of experience. They know how to keep your child motivated and on-track to achieve their goals. [/su_photo_panel][/su_column][/su_row]
[su_testimonial photo="http://www.welovekungfu.com/wp-content/uploads/2016/06/Kids-Cert-3-400X300.png"]Master R. "Low self-esteem and lack of interest in general was causing my son, Michael, problems that as a parent, seriously worried me. All this changed after taking Kung Fu classes at Rothrock's Kung Fu & Tai Chi Studio. He has a good overall feeling about himself and his grades skyrocketed." -Rich Wilson[/su_testimonial]
[su_spoiler title="FAQ - CLICK HERE..." style="glass-dark" icon="arrow"]
What is the youngest child you accept? We recommend at least six years old… and sometimes five depending on their maturity level. That's why we recommend the Trial Program to make sure your child is mature enough to learn Kung Fu. The reason that we recommend that age is because they can now understand that what they learn is not be used for harming others, but only for their own protection.
How long have you been in business?
Since 1972. Master Rothrock started training in 1968 in Karate. Later, he was introduced to the ancient arts of Kung Fu & Tai Chi… and has been training for over 50 years. His teacher Grandmaster Leung Shum is retired and Master Rothrock still travels to New York to visit with him. He is one of only 5 disciples in the United States that have Mastered both Eagle Claw Kung Fu and Yang and Wu Tai Chi.
What does professional

instructors

mean?
A professional instructor is someone that has chosen to make their career as a Kung Fu & Tai Chi instructor. That's their full-time occupation and have 10 to 30 years of experience. That means that they are specifically trained to teach and take pride in helping your child achieve goals and give them the tools they need for success in life. Many schools use part-time help or volunteers, who are not specifically trained to teach martial arts. Our teachers are trained to work with children that have both mental (ADHD, etc.) or physical handicaps.
What Can I expect when I come in for a visit?
You'll be greeted by my friendly staff, who will give you a tour of the Academy. You will never feel intimidated and you'll feel right at home… Guaranteed.
Is my child going to get hurt?
Absolutely not. We have a safe and modern training environment. It's not like what you might have seen in the movies. In over 40 years, we never had anyone get hurt from the training program.
Will my child become
aggressive
?
It's amazing how often we might hear parents state that. In every case, the reverse is true. Kung Fu does not make children more violent, it makes them less violent. By practicing martial arts, children become more confident. Therefore, they are less likely to become a target for bullying. On top of that, as a child develops a stronger self-image, he or she is less likely to feel the need to prove him or herself.
Do you have
separate
Children Classes?
Yes. All of our classes are separated by level and age. Every age group has its own needs for the mental and physical development.
Are there testing fees?
No. We have no hidden testing fees or association fees. As your child progresses through the material and develops greater focus and discipline, they are tested and awarded a graduation certification.
How many times can I come a week? You can come as often as you want. However, we recommend for most children to start with two 30-minute classes a week.
What are the Cost of the Classes? We offer a variety of options based on your child's needs. That's why we recommend a Trial Course first to get started. Not only does it provide you with an easy way for your child to try the Kung Fu Fit program, but also allows us to look at their maturity, discipline, focus and self-esteem. Then based on our 50 years of experience we can make some specific recommendations. To get the most up-to-date prices, we suggest you visit the Academy.
How can I get my Child started? You can get started with one of our Trial Programs. That is the best option for most children.
[/su_spoiler]